Free cutting high speed steel with sulphur
These steel grades give improved machinability improving tool life. The production of these steels has to be carefully monitored in order to achieve uniform distribution of sulphide inclusions throughout all sections with good mechanical properties and excellent machinability.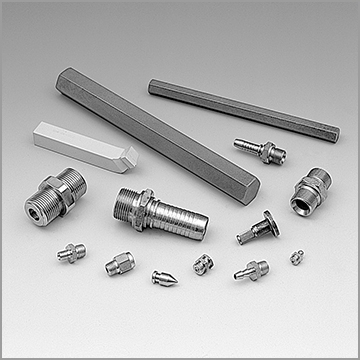 Corresponding standard
Average chemical composition
Werkstoff
ORI Martin
C
Mn
Si
S
P
11SMn30
1.0715
Z09Z21
0,08
1,1
0,05
0,3
0,05
11SMn37
1.0736
Z09Z31
0,08
1,2
0,05
0,38
0,05
SAE 1117
Z09Z11
0,16
1,1
0,2
0,1
0,02
35S20
1.0726
Z35S20
0,35
0,9
0,2
0,2
0,02
36SMn14
1.0764
Z35S12
0,35
1,5
-
0,14
-
44SMn28
1.0762
Z45Z11
0,44
1,5
-
0,29
-
45S10
Z45S10
0,42
0,98
-
0,1
-
46S20
1.0727
Z45S20
0,45
0,9
0,2
0,2
0,02
Download
Wire rod
Rolling takes place at a controlled temperature using the very latest technology. This allows a smaller grain size to be obtained together with a more fine and even structure. Optimal characteristics for subsequent use in drawing and cold moulding in addition to a higher degree of globularisation after the annealing process.
---
Hot rolled round bars
Production takes place in a rolling mill at a controlled temperature using the very latest technology which guarantees a fine grain and homogeneous structure; the calibrator finishing block allows bars with restricted dimensional tolerances.
---
Continuous casting billets
ORI Martin spa sells continuous casting steel billets to rolling mills and hot forgers. The refining process with the degassing station and the casting through submerged nozzles guarantee the supply of billets of high-quality engineering steel.
Sales
---
---
---
Cold drawn bars
Cold drawn bars are cold finished products achieved by the cold deformation of the wire rod through a die that reduces the diameter and after various controls are cut into the length required. This process achieves the calibration of the wire into the diameter required. We can obtain wire in a wide range of diameters, the mechanical characteristics increase depending on the reduction carried out.
Cold drawn bars can be produced with the following additional operations and controls:
- Heat treatment by annealing (soft and spheroidized annealing and so on)
- Heat treatment by quenching and tempering, normalising or stress reliving by induction (after drawing)
- Ends chamfering
- Surface defect control by Eddy Current
- Anti-mixing control
Sales
Massimo Modonesi
Sales manager Trafilati Martin
Italy
Phone +39 030 7058323
---
Peeled & reeled bars
Peeled & reeled bars (+SH EN 10277)
Alloy Steel, Non-Alloy Steel and Stainless Steel
Ø 10,00 ÷ 200,00 ( ≥IT9 ) EN 10278
---
Cold drawn bars
Cold drawn bars (+C EN 10277)
Alloy Steel, Non-Alloy Steel and Stainless Steel
Ø 8,00 ÷ 74,00 ( ≥IT9 ) EN 10278
---
Ground Bars
Ground bars
Alloy Steel, Non-Alloy Steel and Stainless Steel
Ø 6,00 ÷ 200,00 (IT9 ÷ IT6) EN 10278
Sales
Mauro Rosti
Sales Manager
Italy
Phone +39 0321 530625
Italy
Phone +39 0321 530605